Click each photo to enlarge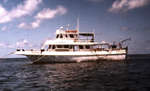 The Dolphin II on site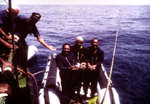 On the Concepción site
Silver Bank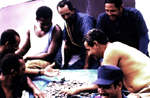 Admiring A Good Find
from the Concepción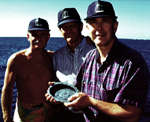 Jim McLean, Captain Tracy Bowden &
Gil Grosvenor (Chairman of
National Geographic Society)
on the Concepción site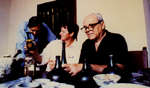 Pedro Borrell, Captain Tracy Bowden &
Mendel Peterson (Retired) from the
Smithsonian Institution, admiring
El Conde de Tolosa Artifacts.



Silverbank Treasures - the Company
Through an exclusive contract with The Commission of Underwater Archaeological Recovery of the Dominican Republic, our company has been recovering wonderful treasures from the world famous Spanish galleon "Nuestra Señora de la Concepción", that sank on November 2, 1641.

Visit the Interactive Silver Bank feature on the National Geographic Society Web Site.

This project is under the command of the noted underwater explorer Captain Tracy Bowden, who has been recovering ancient shipwrecks in the Dominican Republic since 1976 and was featured in the July, 1996 issue of National Geographic Magazine, "Gleaning Treasure from the Silver Bank" and December, 1979 issue of National Geographic Magazine, "Graveyard of the Quicksilver Galleons". Captain Bowden has been featured in ABC-TV, NBC-TV, German National TV and numerous other media throughout the world.

While a large part of our recovered coins and artifacts will remain in museums in the Dominican Republic and other countries, along with a great amount of other treasures we have recovered, we are able to offer a limited amount of those treasures to collectors and others who wish to own a unique piece of history.