Click each photo to enlarge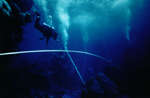 The Concepción Site
Photo: Jonathan Blair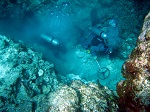 Tomas Guerrero and Tracy Bowden recovering
"Pieces of Eight" from the Concepcion galleon
Photo: Rudy Lewis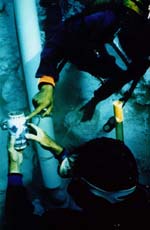 Ming Dynasty Jar
The Concepción
Photo: Jonathan Blair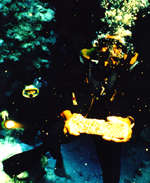 Silver Bar from the Concepción
Photo: Jonathan Blair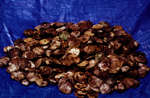 Freshly Salvaged
Concepción "uncleaned" coins



Salvaging the
Nuestra Señora de la Concepción
The Concepción perished and spilled her vast treasures on the Silver Bank, an area of treacherous coral reefs located 70 miles north of the Dominican Republic, in the Caribbean Sea. The galleon was returning to Spain with treasures from North and South America and the Orient.

Many of the treasures were recovered by previous salvors, but a large amount remained hidden in the depths of the Silver Bank until we developed a system to locate and recover this undetected treasure. Visit the Interactive Silver Bank feature on the National Geographic Society Web Site.

In 1993, Captain Tracy Bowden acquired the rights to the wreck site. He and his crew made several voyages to the Silver Bank aboard the vessel "Dolphin", and he succeeded in delicately navigating the Dolphin within the coral reef maze of the Concepción wreck site, a feat no prior salvors had attempted because of the obvious dangers involved. This allowed the Dolphin to anchor very close to the shipwreck site and to use stronger excavation equipment to uncover the deeper, undetected treasure.

To date, the Bowden exploration has recovered coins, dining ware and utensils, all of silver; gold and diamond jewelry; 15th century Ming porcelain, ceramic wares, religious articles and various other unique artifacts of the era.